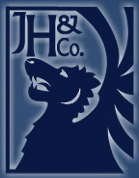 John Howell and Co Ltd. (JH&Co) brings together professionals from banking, public administration and academia whose record of cooperation goes back to 1992. It offers support at strategic, tactical and operational levels in the identification and attainment of business or policy goals.
JH&Co is built around the expertise of its core team and its process and content experts from both the public and private sectors and academia. To meet its clients' needs, JH&Co regularly cooperates with such experts, who either join project teams or act in a quality assurance role.
© 2015 John Howell and Company Ltd.
JH&Co is not responsible for the content of external internet sites and RSS feeds.
Free pictures from Bigfoto (www.bigfoto.com)