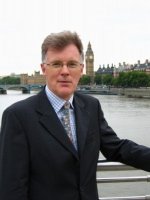 John Howell studied Modern History at Oxford University and worked in shipping, political research (Greek Accession to the EC) and with Accenture before entering the banking industry. A former Managing Director of Nomura's Berlin-based privatization and corporate finance operations, he subsequently led one of the world's largest 'AAA' development agency borrowing programs.
Since founding JH&Co. Ltd in 1992, he has advised on financial market strategies, development institution operations, integrity issues and governance. He is a long term adviser to the State Development Banks of Baden-Württemberg and Saxony.
John specialises in reducing the risk of policy failure. He was a founder member of the National Audit Office's Expert Panel on Better Regulation. He has undertaken a number of independent reviews including for UK regulators, the European Council and the European Commission. Other clients include the EBRD, the Dutch Ministry of Justice, the National Banks of Kazakhstan, Hungary and the Netherlands as well as the Regulatory Management and Reform Group, OECD.
From 1998 - 2001 he was on the Advisory Board of the Computer Security Research Centre at the London School of Economics. He is currently a Trustee of the Financial Markets Policy Foundation and a Senior Member of St Antony's College, Oxford.
John has authored the ICC Guide to the Prevention of Money Laundering and Terrorist Financing as well as a number of articles and papers on Impact Analysis. In recent years John Howell advised countries on peer review processes (e.g. Art IV and FATF) and has been involved in threat finance assessments and support projects in a number of Middle East and Asian countries for supranational and national government clients. He is currently coordinating one of the largest asset recovery processes to come out of the 2008 crash as well as on projects relating to Private Sector Development and Derisking.
John speaks fluent German, Dutch and French.